David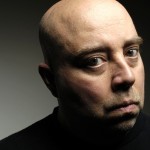 This site, Acting Answers, is curated by a professional actor, David H. Lawrence XVII, for others who either already are working as actors, or who want to become proficient at both the art and business of acting, or for the fan who may have wondered how the business and craft of performance works.

After a 30 year career on radio in markets from New York to San Francisco to satellite and network, David H. Lawrence XVII decided to make a drastic change. He hung up his headphones and retired from hosting 3 syndicated radio shows to head to Los Angeles, to concentrate solely on acting in front of the camera.
This new phase of Lawrence's performance career seems to fit him like a glove.
The Cleveland native has been seen on TBS' Frank TV, CBS' legendary CSI, their military thriller The Unit and served a month or so as the announcer on The Price is Right; he's appeared on TBS' Raising The Bar, ABC's epic LOST, NBC's spy dramedy Chuck, the hit Disney Channel sitcom Good Luck Charlie and his breakout role as one of the Villains, puppet master Eric Doyle on NBC's smash hit Heroes, has sci-fi fans and the media buzzing. Lawrence also stars in new media as well, a series regular on the webisodic hit Goodnight Burbank playing Frank, the cable station's lecherous general manager, and lead in the PRODUCED BY Producer's Challenge winner Heroes: Nowhere Man, from NBC and Retrofit.
Lawrence's film career includes on-camera and VO work on The Changeling, The Hulk, Iron Man, Percy Jackson, Unstoppable, Too Big to Fail, A Special Relationship and countless others.
As a new media expert, David Lawrence was heard nightly as the wacky, eclectic and highly opinionated host of The David Lawrence Show, and weekend Online Tonight, both nationally syndicated radio talk shows that revolved around pop culture and the high-tech lifestyle. The Emmy-award winning and Clio-nominated Lawrence is deeply rooted in the music industry as well, and anchored The Net Music Countdown for almost a decade, counting down the top downloaded and streamed artists on the Net. These shows were heard on over 300 radio stations and both XM and Sirius Satellite Radio.
Lawrence is at the forefront of the podcasting revolution, having delivered daily RealAudio and MP3 "podcasts" via email from early 1994. Lawrence counts over 350 Fortune 500 and private companies as podcasting clients, either as a podcast talent, producer, designer or consultant. Each night, he voices over 25 daily podcast episodes for clients.
Lawrence appeared on radio for over 30 years as a top rated air personality on stations like WGN/Chicago, WMAL, WMZQ and WRQX/Washington DC, WGAR, WGCL, and WDMT/Cleveland, KC101/New Haven, WTAE/Pittsburgh and WNCI and WLVQ/Columbus. He is a founding member and was executive producer of the legendary radio comedy ensemble, the American Comedy Network. He wrote the best-selling Learn HTML on The Macintosh, the first web design book exclusively for Macintosh users.
His is the voice of America Online's customer service lines, as well as the voice of over 1500 other interactive voice response telephone systems – he is one of the most often heard voices in the world, and Lawrence helps other actors create their own voiceover career with his award winning VO2GoGo.com voiceover cosultancy. He also teaches voicework workshops and classes at various studios around Los Angeles.
His past theatre and voice work include originating the role of Charles Bukowski in Sacred Fools' LA's award-winning Bukowsical!, Potter in It's A Wonderful Life, the role of El Gallo in The Fantasticks, as well as parts in The Children's Hour, The Good Doctor, Born Yesterday, The Fall of the House of Usher and starred as Barry Champlain in Talk Radio. He has performed on stage at the Kennedy Center for the Performing Arts and is a lifelong member of Mensa.
Lawrence makes regular appearances as an industry commentator on G4, CNN, FOX, CBS, MS-NBC, and Tribune broadcasting outlets as well as the CBC and the BBC, where he is a featured tech expert on Radio 5 Live's Up All Night. He has delivered keynote addresses, inservice teaching and has served as both moderator and panel member at conferences ranging from MacWorld, CES, FOSE and COMDEX to The Micropayment Conference, Gnomedex, the Podcasting and Portable Media Expo and the NAB. His dozens of award winning web sites include work featured in the permanent collection at the Smithsonian, the home page for America Online CEO Steve Case, Quincy Jones' Qradio.net site (nominated for a WIRED Reader Rant award), and the AMD Professional Gamer's League site.
Lawrence created the industry standard Rehearsal app for the iPhone, allowing actors and VO talent to have a digital rehearsal studio right on their iPhone or iPad.
Lawrence is represented theatrically by Karl Hofheinz at Synergy Talent, and commercially and for VO by Beverly Kline at Independent Artists.